Skip Navigation
Website Accessibility
Sewing Machine and Vacuum Cleaner Repairs and Services




Now Available During our Curbside Hours!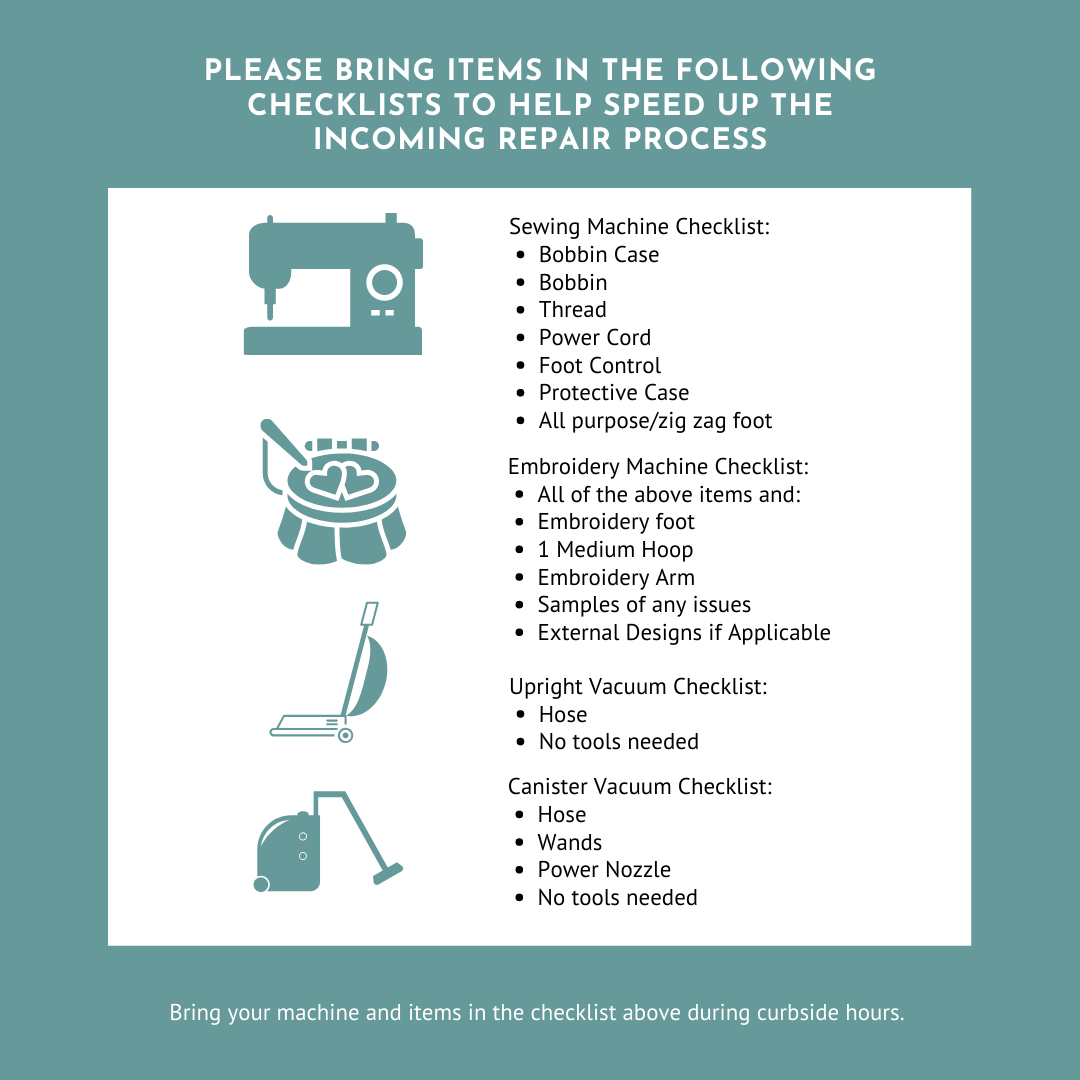 Sew and Vac, Inc. has the experience and knowledge to repair most brands of vacuum or sewing machine. Our technicians have been trained and certified by top manufacturers to quickly diagnose and repair all types of malfunctions. We also work with the warranties of many manufacturers.
We provide in-house sewing machine Service and repair at both our Albany, NY and Poughkeepsie, NY facilities.
When bringing in a sewing machine for repair or service please provide the following:
*Foot control
*Power Cord
*All-Purpose Foot (zig zag)
*Bobbin Case
*Bobbin
*Sample of stitch problem if it can be demonstrated
*Carry case to protect your machine
*Thread and Any special materials being used




Embroidery Machines should also include


*Embroidery Foot
*Hoop
*All Sewing Machine's Serviced at our locations include a 90-Day Warranty
Sew and Vac, Inc. in Poughkeepsie, NY offers Sharpening Services for most knives, scissors, and shears. We also make Key Copies for most door locks, deadbolts, and padlocks.
We now have in house scissor sharpening services at our Albany, NY facility.
We service almost any brand of sewing machine and vacuum cleaner to keep it running like new and make repairs should something break. We carry a full line of parts and accessories, and all the machines we sell come with a comprehensive warranty to keep your investment at peak performance for years to come.
The service technicians at Sew and Vac, Inc. & Albany Sewing Machine Center have been trained and authorized by manufacturers such as:

Effective April 15, 2021

--We will no longer except Cordless Vacuums other than Miele for service/repair. Most parts for these machine's are not readily available and many times not fixable.

--All Bagless Vacuums wil have a minimum $55 service/labor fee due to the high maintenance and time associated with their repair.


As of August 2018 We will no longer oversee warranty work for Hoover, Eureka, & Bissell.
But please feel free to visit us for all your regular service, parts, and maintenance needs.