Skip Navigation
Website Accessibility
Janome Sewist 725s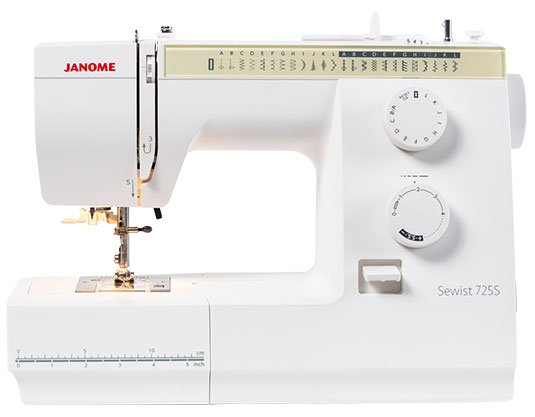 The Janome 725 is a highly versatile and advanced sewing machine designed to meet the needs of both beginners and experienced sewists.

With its exceptional features and superior performance, the Janome 725 is a top choice for those seeking precision, reliability, and creativity in their sewing projects.

This sewing machine is equipped with a robust motor and sturdy construction and offers excellent durability and stability.

Its smooth design, and compact size make it perfect for small spaces while providing a generous workspace for handling larger fabrics and projects.

The Janome 725 boasts various stitching options, including essential stitches, decorative stitches, and buttonhole styles. With its user-friendly interface and intuitive controls, selecting and adjusting stitches is a breeze.

The machine also allows for adjustable stitch length and width, allowing you to control your sewing according to your preferences.

Featuring a built-in needle threader and a top-loading bobbin system, the Janome 725 ensures effortless threading and quick bobbin changes, saving you time and frustration.

The machine's adjustable presser foot pressure, one-step button-holer, and extra-high presser foot lift further enhance its versatility, allowing you to sew many fabrics easily.

The Janome 725 has many convenient features, such as a built-in side thread cutter for efficient trimming, a reverse stitch lever for reinforcing seams, and a free arm for sewing cuffs, collars, and other cylindrical items.

The machine also includes a variety of accessories, such as different presser feet and a seam ripper, providing you with everything you need to tackle various sewing projects.

In summary, the Janome 725 is a feature-packed sewing machine that combines precision, durability, and ease of use.

Whether a beginner exploring the sewing world or an experienced sewist seeking advanced capabilities, the Janome 725 is a reliable and versatile companion that will elevate your sewing experience to new heights.